Chart Types
AnyChart Extension for Qlik provides the following chart types, (see AnyGantt Extension and AnyStock Extension for more chart types):
Area Chart
Bar Chart
Barmekko Chart
Box Chart
Column Chart
Donut Chart
Funnel Chart
Gauge

Linear Gauge
Circular Gauge
LED Gauge
Thermometer Gauge

Heatmap Chart
Line Chart
Mekko Chart
Mosaic Chart
Pie
Pyramid
Quadrant Chart
Radar Chart
Sankey Chart
Scatter Chart
Stacked / Percent Stacked:

Stacked Radar
Bar
Line
Column
Area

Tag Cloud / Word Cloud
Finding Chart Types
AnyChart Extension contains a lot of chart types and to find required chart type fast you can use this handy Qlik search feature: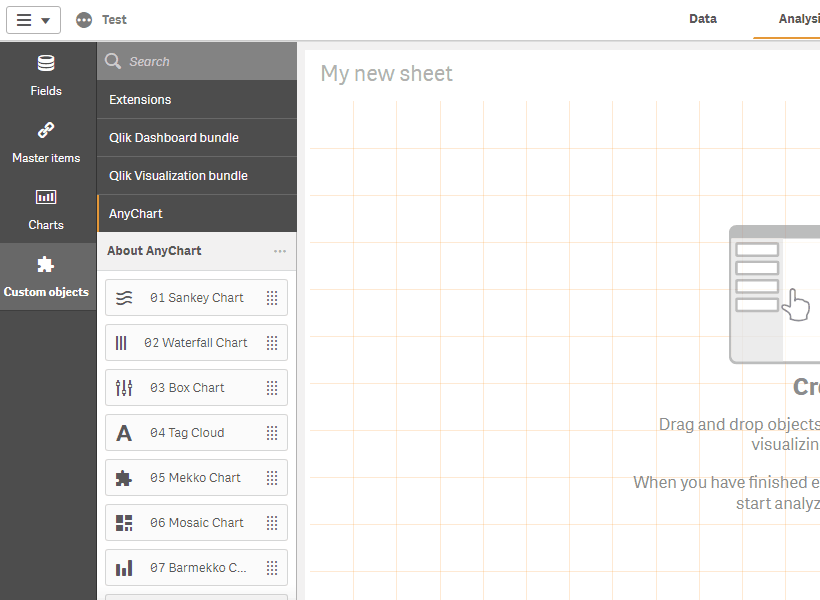 Download and Install
Installing Extension in Qlik Sense Desktop
Download AnyChart Qlik Sense Extension
Extract the archive
Copy "AnyChart-v3" directory to the standard Qlik Sense Desktop Extensions directory. By default it is located in "C:\Users\YOUR_USERNAME\Documents\Qlik\Sense\Extensions".
Copy the demo Qlik Sense application "AnyChart-demo-application.qvf" by AnyChart from the "AnyChart-qlik-v3" directory to "C:\Users\YOUR_USERNAME\Documents\Qlik\Sense\Apps"
Relaunch the Qlik Sense Desktop if it is running
Installing Extension on Qlik Sense Server
Download AnyChart Qlik Sense Extension
Extract the archive
Launch the Qlik Management Console (QMC)
Go to "Extensions" panel
Click "Import"
Choose "AnyChart-qlik-enterprise-v3.zip" archive in the extracted folder
Leave blank the password area
Click "Import"
Go to "Apps" panel
Click "Import"
Choose the demo Qlik Sense application "AnyChart-demo-application.qvf" by AnyChart in the extracted directory
Click "Import"
Reload the Qlik Sense Hub page
Activating License
After you purchase a License for the AnyChart Qlik Extension you will receive an email with your activation code.
To activate the license:
Select on any of the AnyChart Qlik Extension charts in the Edit mode in your App.
Locate and open About tab in the extension properties
Copy paste the activation code into the input field and click Activate
In case of the successful activation the extension will prompt you to reload your App. In some cases reloading Qlik itself may be required.
If the activation fails add for any reason please contact support@anychart.com. Please provide your company name, order ID, and your activation code in order to help us resolve the issue in a timely manner.
Measures and Dimensions
Working with measures and dimensions in the AnyChart Qlik Extension is simple and easy. Either choose the appropriate dimension and measure after you have dropped a chart onto your sheet, or you can use the tabs in the setting Panel of the chart.
The number of required dimensions and possible measures is different for every type, as well as the way charts treat them.Please follow the instructions provided in the initial screen of a chart in Edit mode.
For example, for a simple Bar chart one dimension and at least one measure are required, additional measures are treated as new series of bars.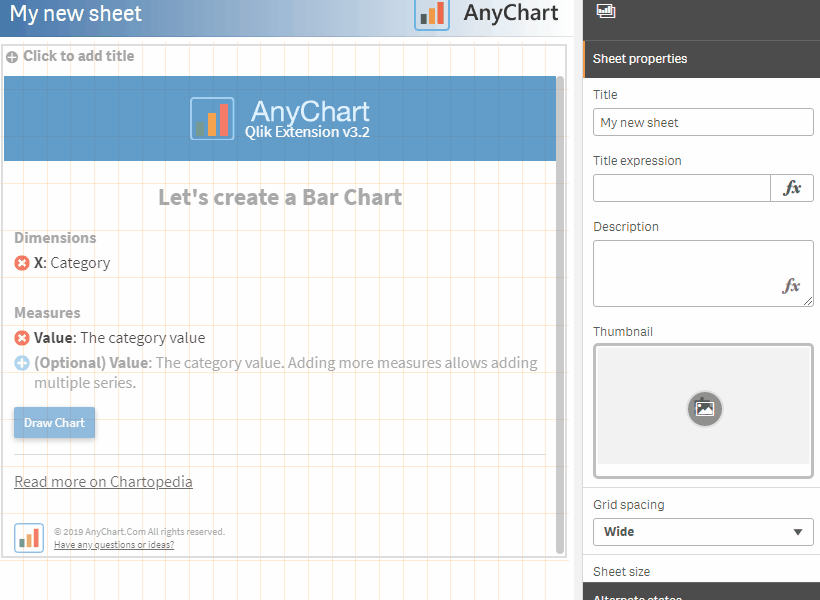 And in case of Tag Cloud Chart one dimensions and one measures are required, and one more measure is optional.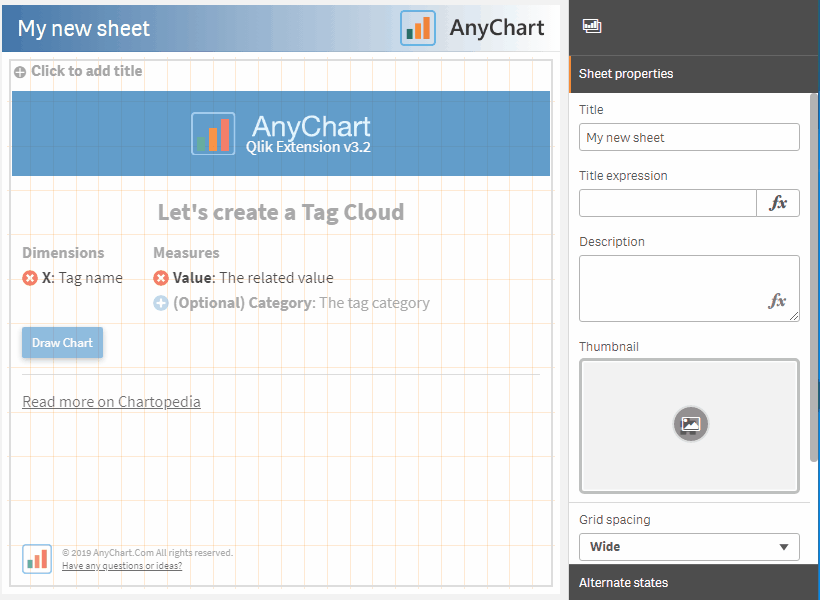 Color Schemes
AnyChart Extension provides very flexible way to change the look and feel of the chart with one click: Themes and Palettes.
Theme is a set of general look and feel settings, including chart background, set of fonts and so on.
Palette is a set of colors that are used to color chart elements (sets of bars, different lines, pie chart slices and so on).
If you are not satisified with the colors provided by the extension you can choose and set colors for any element in the Settings Panel.
To change the theme of the chart open the Appearance > Advanced Settings section and choose one of themes: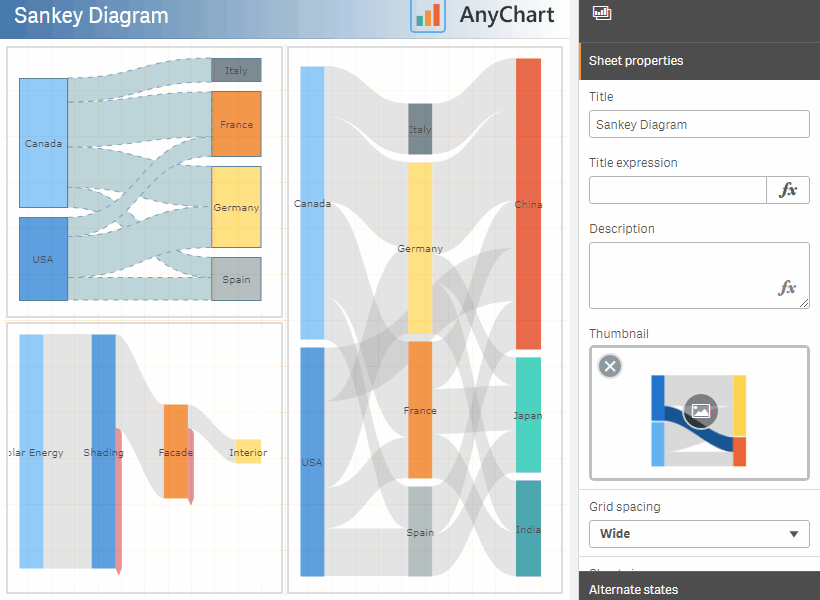 While each theme has a certain chart palette associated with it you can override it by choosing a palette in Appearance > Advanced Settings section as well: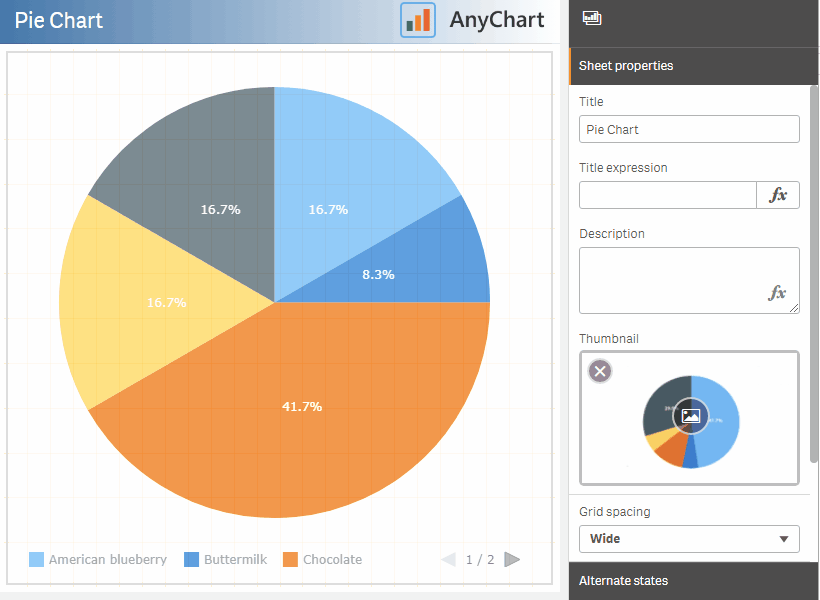 Settings Panel
If you wish to customize the look and feel of the chart, add a legend, modify scales, etc, locate the Appearance > Advanced Settings in the extension properties panel and click Open Settings Panel button to open the self-explanatory settings UI with the preview pane.
Whenever you are done with settings in the settings panel you need to hit Save to save settings, or Cancel if you want to disregard all settings done.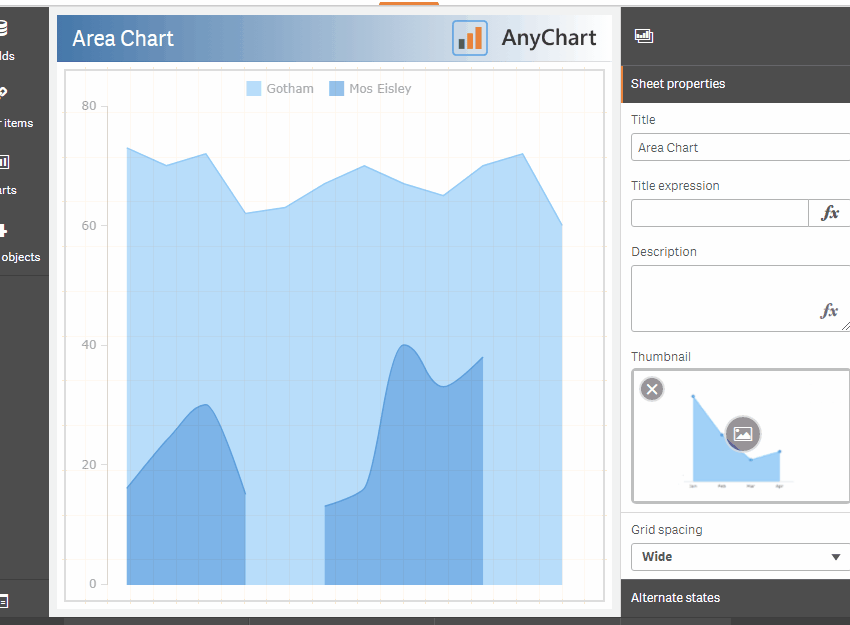 Contact Our Sales Representatives
Our Sales Representatives will be happy to talk to you and answer any questions regarding our products, licensing, purchasing, and everything else.